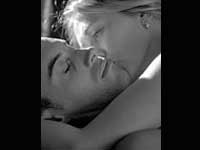 When you are with your lover under those satin sheets, the most important way to enhance love life at that time is by appealing him/her by the sound of your seductive voice . Good, sweet and most importantly naughty words/phrases during lovemaking will spice up the night and make it ever so lasting.
So to enhance love life all you have to do is to learn the art of saying those naughty phrases which will drive him/her crazy for you when caught in lovemaking.
These are some lovemaking tips for you to enhance love life the proper way making each other happy in the positive presence. Keep in mind not to say inappropriate things as it can widely destroy your love life.
Stated below are some naughty words/phrases during lovemaking which can make the night not fade away.
1.Your Partners name - The best thing is to shout aloud your partner's name. This in a way encourages him/her in the art and therefore provides a better session. You can also whisper his/her name softly and gently in the ear while you slowly nibble in.
2.Swear words -It is believed that when the partner swears they really mean it. Swearing naughty words/phrases during lovemaking might be like, 'I swear you are the best lover' or ' I swear this position is the deepest you made me feel' etc.
3.Threatening Words - The most common aspect one would agree to in lovemaking is the threatening words. It needn't have to be that what he or she says is true, but at that time these naughty words/phrases during lovemaking really does work to spice up the connection. Some of the threatening words maybe like,'Il kill You baby, go deeper' or 'Il spank you harder if you don't' etc,
4.Dirty Actions - When it comes to oral lovemaking things can really spice up and thus it goes for naughty words/phrases during lovemaking too. The most common one is what men usually say to their lady love to enhance love life is 'Baby you taste so good that I want to stay down under'.
These are some of the common ways to enhance love life and make your partner feel on top of the world.