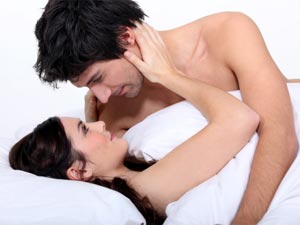 A man always thinks what action can make his woman enjoy orgasm. Women don't open up and speak when asked about good lovemaking. This is why, men use their mind and sense to find out what type of lovemaking makes a woman happy. Through gestures and satisfaction, a man tries to know the comfort level of a woman. If you are wondering as to which type of lovemaking session women love then read on...
Romance: Lovemaking when mixed with romance makes a woman enjoy orgasm. Women love romance and this is an integral part of making love for them. A wild kiss or a tight hug while caressing her and talking dirty can make her feel really romantic.
Strong and initiative: While making love, a woman wants her man to take initiative and be strong while performing. This makes a good lovemaking session for a woman. If the woman has taken an initiative, don't ignore or reject it. This can hurt her ego and spoil the mood for a long time as women keep things in mind for weeks or months!
Comfort: A good lovemaking session for a woman is when she is comfortable with her man. The comfort level builds slowly and the man has to be really careful while winning her trust. Appreciating her beauty and loving her while making love are great steps to build comfort.
Foreplay: For a woman, lovemaking is incomplete without foreplay. This is one of the best part of making love for her. Try to be erotic during the foreplay to have a good lovemaking session. Extend the foreplay to arouse a woman and go with the flow.
Fantasies: A woman also fantasizes like a man. Try to talk to her and know what she likes and fantasizes while making love. It is very satisfying when fantasies are turned into a reality! To know what type of lovemaking session is loved by a woman, try to be conversational and get to know her fantasies.
Hug after done: For a woman, lovemaking should not be completely over after both reach climax. They love to be hugged after making love. A good lovemaking session is complete after hugging and kissing your woman. Never get up from the bed immediately after reaching climax. She might take you as an introvert who wants her to fulfill your urges.
These things in lovemaking are perfect and loved by a woman.