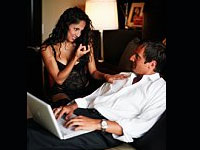 In a relationship, lovemaking is ideal that makes the bond grow deeper and stronger. Lovemaking tips for couples can make the room and their love grow deeper on those romantic satin sheets that will drive you both crazy through the night.
Here are some ways that can help women to make their men go wild by simply seducing them in the most basic and romantic ways.
1.Seducing your partner is one special way of showing him that you are interested in making love to him. The first lovemaking tip on ways of seducing your partner is to simply write a short summary of your love. Put yourselves as the main characters and play the lead to turn him on.
2.When you have planned in seducing your partner, make sure you have everything ready for his arrival. When he comes home from work, wear on something that he finds hards to resist you wearing. Give him no chance of taking his eyes off you once he has come home. Buy revealing inner wear that will please him. Colours and the texture of innerwear is important to get into the mood.
3.Call him up during the day and tell him that you are thinking of him. Draw up an intimate conversation and make him long for you. Try your art of phone sex, it will get him all heated up wanting to get to you immediately where ever you may be.
4.Another way of seducing your partner is by sending him a quick message of how you are feeling right now for him. Tell him that you want to hold him naked or make sweet love to him. This will enhance your love life and make him weak in the knees, finding him hard to resist.
5.In seducing your partner, one should know their partner well in order to hit the nail on the head. Try out different things together in the bedroom. One simple way lovemaking tips of heating things in the bedroom would to tease your partner. Go close to him and gently rub your self against him or while he reads a book go sit on his tummy and give him a body massage.
These lovemaking tips will definetly enhance the love life and your relationship.