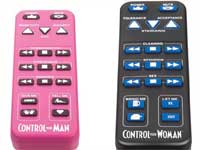 This Christmas spice up your lovemaking with the all new 'Control A Man and Control A Woman' remote controls.

Apart from the usual aspects, Control A man is a tool that can be used to take charge of personal reactions. All the buttons pushed at once can give an orgasm control.

The Sun has reported the 'Heal' department store product can enable the females to switch off their partner's egos by Get Hint and Multi-task. These gadgets are designed to help you voice your ideas and needs. The main motto remains a satisfied relationship and to revive a relationship that has gone stale.

[an error occurred while processing this directive]

The four-pound gadget includes A Give Me menu that offers beer, sex and food. The special 'Stop' section is designed to take care of nagging, moaning and whining.

The other 'smart' features of the gadget includes the 'Mute' feature and the 'Off' button cancels out PMS. So go ahead and grab your remote controls now!