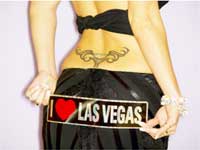 Backside love...Many women consider anal sex as a non-enter zone during lovemaking, but men love to explore such women's hidden treasures as they feel empowered. Here are some hot tips on how to make their first anal sexual experience kinky and safe. So gather in folks, to know all about one of the ancient sexual practice to melt in the heat of love tonight.

Go slow... play safe... its your territory now
When your lady love gives the permit to board her from behind, do not rush to the climax. Pamper her, caress her and get her into mood of really experimenting something new. Help her relax and feel at ease, by rubbing her butt cheeks softly, spreading them and then squeezing them together. Before inserting the male organ for the first time, start with something smaller that she can handle with ease. Use one finger, then two, then introduce a manageable dildo, when both of you feel its time to speed then go for anal penetration. While inserting the finger make sure to trim them, not to forget the lube. Remember, don't put the dildo into the vagina after putting it into the anus.

[an error occurred while processing this directive]

Although anal sex is believed to prevent unwanted pregnancy most of the time, here are some basic and must follow safety rules to follow.
Whatever touches the anus shouldn't be touching anything else as this can lead to serious infections and other complications.
Change the condoms immediately after any kind of anal play and wash the entire pelvic area thoroughly.
Avoid having sex without a condom as you may invite many sexually transmitted diseases like AIDS, genital warts, herpes, syphilis, gonorrhea, etc.

Lubrication... a must:
Anus doesn't produce any lubrication like the vagina, therefore you got to use a lubrication while lovemaking. The more lube you use, the better, as it will make the initial penetration much smoother and less painful for your lady love. You can use lot of lube for anal sex from Vaseline to high-tech silicone-based lubes. Experts suggest to use a high quality water-based lubricant; as the oil-based lubricant like Vaseline will degrade the latex in a condom. For anal sex make sure to lubricate even the condom that you use as they don't offer the required lubrication for the love play.

Some lubrication in the market include an anesthetic to numb the woman's sensation and make anal sex less painful, do not even think of using such products. For a simple fact that pain is a way of your body telling you that something is wrong. Therefore solve the problem by changing sexual position (like doggie style) or any other given method to get enchanted with the erotic pleasure.

Let her try it...
Women love to take men under their control, and have major orgasm looking at their men enjoying the moment of pleasure. So let your lady love have control over you. Ask her to give you the thrill of anal sex. Encourage her to use her fingers, a butt plug or small dildo inside of you. Once she sees you're willing to do it, it'll be hard for her to resist exploring the new pleasure zone. You will be surprised to see how much you will love it too.