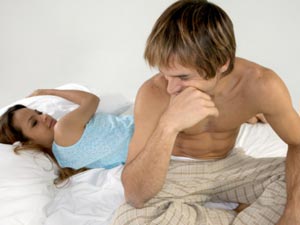 Are you still stuck in the past and have not been able to forget the hot moments with your ex-girlfriend? Well, it is time to forget as your present one will never want to understand what went wrong and why.
One of the worst mistakes that most men do is think about the other girl in bed. Men need to understand that women cannot achieve orgasm as easy as men do and things like uttering the other girl's name will make them get turned-off and the entire day is screwed.
Women would like to get intimate with those men who love them deeply and other not treating them as just another. Mentioning ex's name will make them realise that the man is not serious about the relationship and is treating them like a timepass.
If men are planning give a new beginning to life then their new lovemaking should be special, highly comforting to the girl and special. If a woman is extremely satisfied with her man, she will believe in him and help him get over with the past.
Most men think that their ex partner might be cribbing about losing them, but how do they know, may be the lady is happily getting laid with somebody else. Men should have to make a strict agreement that they will have the same enthusiasm they had with the first relationship. This attitude of theirs will make them get cosy with the present partner and have a pleasurable personal life.
Women often doubt men when it comes to having a relationship so constantly uttering things relating to their past (especially about the ex's) will make women feel that they were imagining the girl and having a hot moment with them.
Thinking about what is gone and living lifeless will turn off other women who would want to add some colours to your black and white life so it is better to plaster your mouth and simply moan until you get over with the broken relationship.
Remember! Your ex-girl is ex and cannot erase your past and become your future. Understand the girl who is ready in bed with you and make the most of the available moment.