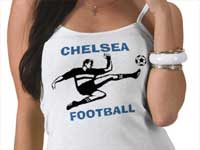 A new survey has found that men like their women the best in their favorite team's football kit. Reportedly men are most turned on by women in a foot ball shirt and shorts, rather than seductive underwear.
The poll involved 1,900 men conducted for website mycelebrityfashion.co.uk. One in three men confessed that a footie strip is the sexiest outfit their lady can wear in bed and a shirt and shorts is a real scoring draw between the sheets.
As reported by The Daily Star, only 23 percent preferred their women in underwear. One in five want their girls naked, 16 percent would love to see them in a role-play outfit and 6 percent are happy with their lovers in normal sleepwear, the study found.
Website boss Jilly Tovey said: "Women always suspected blokes like their team more than they should but to say women are more attractive in a football shirt is taking things a bit far."
AGENCIES