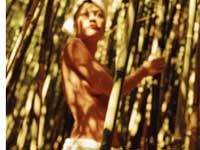 Kamasutra, the much celebrated Indian text on lovemaking has interesting references on the art of love making. Vatsyana's renowned text must have widely referred as a text for pleasure reading on the art of physical pleasure. However as one reads on, it is surprising to note the intrinsic philosophy and the reflection of its contemporary society that lies beneath the wonderful theme it deals with. The aspirants of Kamasutra may be eager to know about the women with whom a man can do the best sexual thrill.

Kamasutra has strict instructions on women partners to be taken for sexual relationship in a marital life. However the rules become flexible as the practice of 'Kama' comes only for pleasure. Kamasutra identifies the women with whom men can make love only for physical pleasure.

Kamasutra insists that men should not have sexual contact with a woman belonging to higher caste in a marital life. However the text also allows men to enjoy sexual life with these women if, it is only for pleasure. In that case there must be a hearty consent from the woman's side or she should have priorly enjoyed sexual pleasure with another person.

Kamasutra instructs that men can make love with women if they have specific advantages from the relationship. For instance the sexual relationship

[an error occurred while processing this directive]

with the dominating wife of his enemy will get him protection from his enemy's wrath. In another way he can also ensure a good ally with a powerful force with this sexual union. There is no harm in accordance with Kamasutra if, the man enjoys sexual pleasure with a woman aiming at her vast wealth or riches.

Kamasutra advises men to have sexual union with women if, the fair sex threatens to tarnish his image or living conditions. Men can also sexually acquire women to do a beneficial cause to the society. There is no harm if, a man seduces a wife whose husband had seduced his own wife. Kamasutra finds no fault in a man who seduces a woman aiming at the love her girlfriend.

There are some women with whom Kamasutra strictly prohibits the sexual relationship. A woman who is infected with contagious diseases, unhygienic or mentally challenged should not be prompted for sexual relationship. Kamasutra states that it is better not to have sexual union with women who reveal all the secrets or who publicly crave for sexual affection. Women who are related with men or true friends should not be considered for the sexual act. Whatever be the situation these women should not come to your mind for sexual pleasure in accordance with Kamasutra.

The aspirants of Kamasutra must be noted that these instructions had been written with the influence of the laws and philosophy of the text's contemporary society. There are vast changes in the present world and before you venture to take any of the women, be careful to have a concept of the society around you.