Most men are clueless when it comes to women's orgasm. Giving an orgasm to a man is a matter of few minutes. But when it comes to the orgasm of women, it is a really tricky job. Women do not orgasm in the same way as men. A combination of a few oral moves and some action down there is enough to make a man cum. But it takes a lot of effort to make a woman orgasm.
This is precisely the reason why many women do not orgasm at all most of the time. Men usually do not have a clue that even the woman needs to orgasm for complete satisfaction. It is a sad part that most men do not recognize the needs of their woman in bed which results in boring sex! Most men do not know that a woman's orgasm makes sex all the more interesting and fun. A common misconception prevails that intercourse is the only way to orgasm. But that is far from being true. You can make your lady orgasm without intercourse.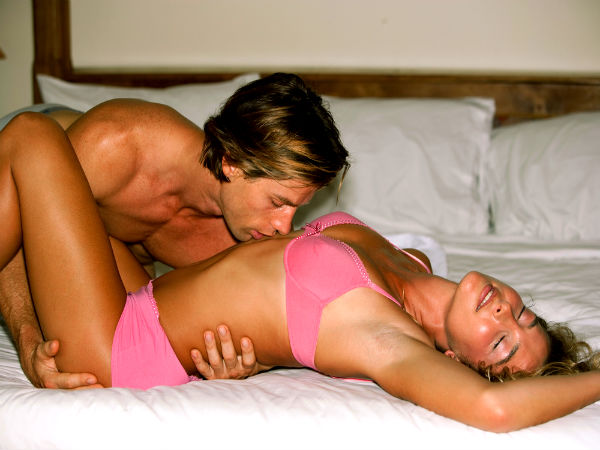 Do you want to find out how to do the trick? Then here we have some absolutely stimulating and mind blowing tips to make your lady orgasm without intercourse. Check out.
Lip Service
Most men hardly spend time on foreplay. They straightaway jump to the intercourse part. But initial foreplay is the most crucial way to excite your partner. So, plant a soft kiss on her lips and run your hand through her hair. Rub your body against her's and let her enjoy the sensation. Once she is aroused, run your finger through her forehead, come down the nose and rest it on her lips. Let her suck your finger. It is a moment of excitement for both. Then wait no more, have a wild kissing session.
Touch To Know
A woman's body is ten times more sensitive than a man. There are numerous arousal points in a woman's body which can excite her to the point of climax. Touch and discover the points where she wants to be touched. Do not be hard, caress her body parts gently and see the magic. Start with her lips, move down the breasts, hover around the nipples, caress her belly to build the excitement. Then slowly move to her genitals. Caress the clitoris. Use your oral skills to pleasure her more and watch her get wet.
Nail The G-Spot
Now she is sufficiently aroused. So, use your fingers to give her the most heavenly experience of her life. Thrust your index and middle finger inside her and move to and fro. As you touch the soft gland which is located about two inches inside the vagina, stimulate it. Make rapid moves with your fingers and touch the gland. You will be giving her the most breathtaking orgasm of her life.
So, try these tips tonight on your lady and watch her orgasm like never before.