Let's face it, all men love oral sex. Blow job is the best sexual sensation a man ever experiences. Once you are down there, your man experiences a bliss which is difficult to express in words. So, if you want to impress your man and bring him down to his knees with pleasure, then you need to learn the right techniques to make him go bonkers.
Giving a blow job is not difficult. The difference is that while some women are too adept at administering it, most of the women really mess it up. While pecking at his cheeks, neck and ears can stimulate him to a great extent, blow job can put your man in a state of euphoria. There are notions about blow job being a dirty or sinful act. So, to start with the lessons, you should first get these notions out of your mind. Blow job is an activity which can spice up your sexual relationship with your partner and can contribute to the pleasure of both you and your partner.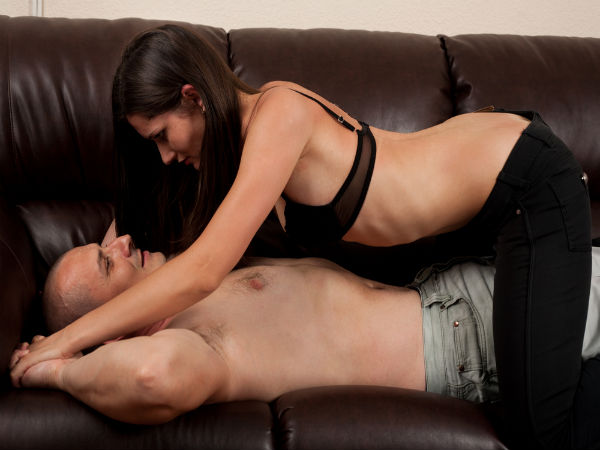 Once you get the notions out of your mind, your task becomes much more easy. So, check out these hot blow job tips which will definitely turn him on:
The eye contact: Once you gear up for the oral sex, your man will be pretty eager to get a blow job from you. Make sure that you make an eye contact once in while with a naughty gleam in your eye. He will be turned on more with that look.
A helping hand: Gently hold the base of his penis and run your finger from the base to the tip, making an O-shape as you move upwards. This will tickle his G-spot and increase the blood circulation in his penis, making it harder.
Take it in: Gently lick the tip of his penis with your tongue and then take it in your mouth. Don't just take in and bring out. Use your tongue to make the swirling sensation. You can also gently massage his testicles and then lick them with your tongue.
Get the rhythm on: Use your hands to give him a hand job. Get his shaft in the hand and give it an up and down jerk. Then increase the speed of your jerk and then suddenly go slow. Move down to his balls and while tickling them with your fingers, give him a good blow job.
Take it deep: As you get used to getting his penis in your mouth, try taking it in completely. Getting it deep down your throat gives your man immense pleasure. If you feel awkward by the idea, try practicing this on a peeled banana first and then do it on your man.
Once you try all these tips on your man, he will have an incredibly enjoyable orgasm. When he starts to orgasm make sure you do not put too much pressure on his penis. Slowly take your hands off and let him enjoy the bliss.