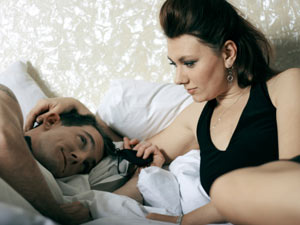 Men feel women are like cats when it comes to lovemaking. What makes them think so? Cats are wild similarly, women are like wild cats in bed. Few women are shy whereas few are extremely comfortable in bed. Take a look to know why men feel women are like cats in bed.
Women are like cats?
Women scratch with sharp nails while making love: Scratching on the back of the man is what makes a woman excited in bed. A woman likes to scratch the back, arms and chest of the man during lovemaking. Few do it due to pain whereas few prefer doing it because they feel it is wild or erotic.
Men think scratching is sensual as it arouses them . But the scratching should not be so intense which leads to bleeding and pain. Few women love to see the scratches on their partner's back as it is a sign of sensuality to them. Scratching with nails like a wild cat's paws makes men feel women are like cats.
Women bite lips while kissing: Like scratching, women love to bite the lips of their partner while kissing. A woman gets very excited in bed when she bites the lips of her partner. If her partner bites the lips, it makes her get into the mood for lovemaking.
Getting the lips bitten can be painful but as lovemaking is basically about pain with pleasure to women, this adds fire to their mood. Biting lips turns the man on unless it is not painful.
Many women love to be wild in bed and to get excited or make their men excited in bed, women scratch and bite lips of their partners.
Women fight like cats: Men feel women fight like cats and they are selfish. Cats want to be loved the most and so women also want to be loved. Even the cat fights make the men feel women are like cats.
These are the common reasons why men feel women are like cats.