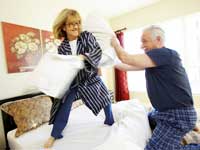 Yes, if your age-hour has striked 60 on the scale, just don't worry. On the contrary, defying all the explanations of the past, health,relationship,women seem to enjoy sex just like anybody else.
In a survey conducted by the researchers at the University of California at San Francisco, it was found that most of the women (the ones who had taken the research) were found to be in a healthy physical relationship, and most of these women still longed for sex.
The study also showed that women who were sexually inactive were more likely to be satisfied with their sex lives if they were older. The chances of having weekly sexual activity also rose with a woman's scores on tests of mental and physical health.
After the survey was carried, The Age reported: "Among those in the age group 65 and older, 28 per cent reported at least moderate interest in sex during the past three months, and nearly 37 per cent had engaged in sexual activity during that time."
AGENCIES